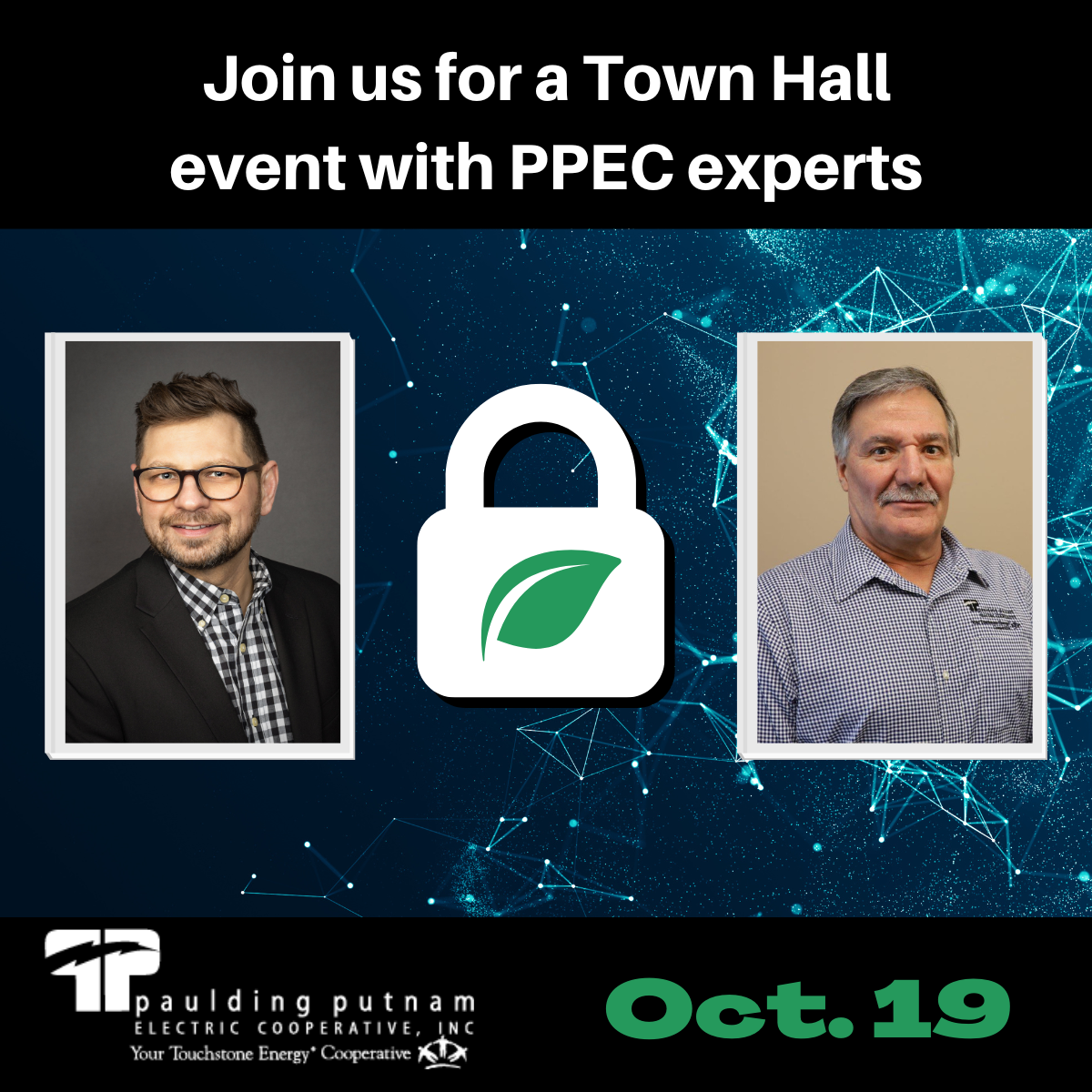 Join us Wednesday, Oct. 19, at 6 p.m. for two sessions about serious topics affecting many members: cybersecurity and energy efficiency. 
In the cybersecurity session, led by IT Manager Todd Taylor, we will focus on what you, as a cooperative member, can do to protect yourself from the hazards of cybersecurity. We will be exploring what to watch for in your email inbox that will assist you in deciding whether the email is a phishing attempt or a legitimate email. We will also look at what you can do at home to protect your computer, including all the important documents you have stored on it.

Finally, we will review the importance of creating a complex password and provide examples. We will look at the biggest password concern: never use the same password for all your online accounts. Examples include bank accounts, store websites, or other companies you use to make purchases or pay bills. We will discuss the benefits of using free password software that can help you to remember all the complex passwords, usernames, or other information that may be hard to remember without having to write it down. At the end of the session, we will wrap up with a question and answer section. 
 
In the energy efficiency session, led by Energy Advisor Peter Niagu, we will look at simple ways to cut your electric usage at home, including air sealing, insulation, and other low or no-cost DIY methods. We will also inform members of our various rebate opportunities, including for ENERGY STAR appliances like new refrigerators, water heaters, heat pumps, etc. If you are concerned about high winter bills coming in the next season, don't hesitate to ask Peter about ways to be proactive, including utilizing our various energy calculators to see where your energy dollars are really going. For example, do you know how much it costs to run a space heater every day for an hour?

For those who don't have our all-in-one account management tool, SmartHub, you can sign up to pay bills, monitor your energy use 24/7/365, and even set usage threshold alerts to help set new habits. Using SmartHub, members can really take energy into their own hands and make smarter choices that will also help your wallet. Peter will go over all this and more, allowing time for questions at the end.
We look forward to having you attend this very informational session! Questions? Call us at 800-686-2357 Monday through Friday between 7:30 am and 4 pm.
Those who cannot attend the sessions in person can view the LIVE broadcasts on PPEC's Facebook and YouTube. The recordings will also be posted here on our website afterward.