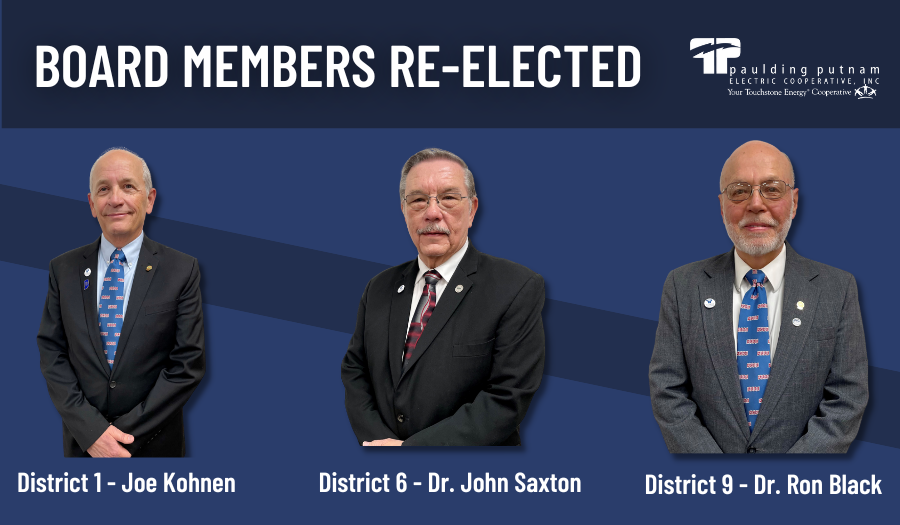 Three Paulding Putnam Electric Cooperative trustees have been re-elected to the board: Joe Kohnen, District 1; Dr. John Saxton, District 6; and Dr. Ron Black, District 9.
District 1 includes members who reside in Marion, Madison, Monroe, Preble, and Union Townships in Allen and Adams Counties, Indiana.
 
District 6 includes members living in Auglaize, Brown, Latty, and Washington Townships in Paulding County Ohio; Defiance and Highland Townships in Paulding County, Ohio.
 
District 9 includes members who reside in Sugarcreek, Pleasant, Union, Ottawa, and Riley Townships in Putnam County, Ohio.
PPEC members will not be receiving official ballots for the 2023 Board of Trustee elections in the mail this February, as no members submitted petitions to run against incumbent trustees. As stated in the co-op Code of Regulations, Article III, Section 2 (a): "in the event of only one nominating petition being submitted for a district from which a trustee is to be elected, that member (nominee) shall be considered elected by affirmation and no election shall be necessary." This saves the co-op and membership in election, printing, and postage costs for ballots.
Each trustee serves a three-year term. The PPEC board of trustees consists of nine co-op members who each represent one district within the territory. Trustees set the strategic direction of the co-op and are responsible for establishing, reviewing, and revising corporate policies to ensure that service to the PPEC membership is foremost in mind, while maintaining a stable yet competitive position in the industry by setting rate structures.
Stay tuned for PPEC's 2023 annual meeting broadcast, which will air at 10 am on Saturday, March 18, 2023. Members will hear financial reports, co-op updates, and have the chance to win $50 bill credits by commenting on the livestream. Please call PPEC at 800-686-2357 for more information.