Members of Paulding Putnam Electric Cooperative recently donated $13,152 to 16 local charities and community projects through the cooperative's Operation Round Up program.
About 80% of PPEC members round up their electric bill and donate those pennies to this fund, making a huge impact in the co-op's northwest Ohio and northeast Indiana communities.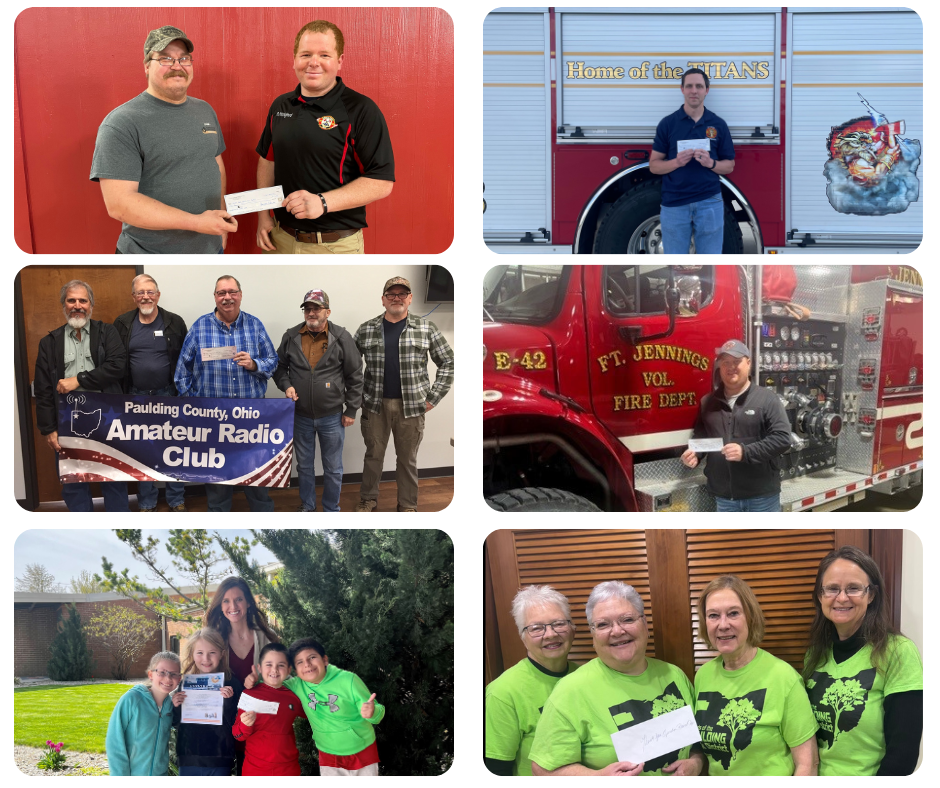 Participating members round up their monthly electric bill to the next dollar, with the extra pennies being used to help fund charities and groups in their communities. Each quarter, the funds are dispensed to local causes that applied for funding.
The most recent donation recipients include:
Caring and Sharing Food Pantry; $950 to purchase shelving units for their new building.
Crane Township Cecil Fire Department; $750 to purchase piercing nozzle with the deluxe kit.
Defiance Soil & Water Conservation District; $625 to help fund a 3-day teacher workshop/training for teachers along with tools and materials for classroom use.
Fort Jennings Volunteer Fire Department; $1,000 to purchase a skid unit for field fires.
Friends of the Paulding County Parks; $700 to rent port-a-johns for 3 parks over the summer.
Grover Hill Firefighters Inc.; $800 to purchase 2 Scene Lighting Towers and batteries.
Hands of Hope Pregnancy Services; $1,000 to cover the cost of yearly subscriptions for pregnancy, parenting, and birth classes for clients.
Middle Point Volunteer FD; $1,000 to purchase a MARCS radio for the department.
Ottawa Volunteer Fire Department; $1,222 to purchase one Supervac battery-operated positive pressure fan.
Paulding County Amateur Radio Club; $500 to install communications equipment in the new emergency operations center.
Paulding County Relay for Life American Cancer Society; $1000 to help cover the cost of the meal served to survivors and caregivers.
Payne Volunteer Fire Department; $1,005 to purchase updated coverage hoods and fire gloves.
POE Fire Department; $600 to purchase an AED trainer unit.
Van Wert Area Performing Arts Foundation (Van Wert Live); $500 to provide free tickets for people with low-moderate income.
Van Wert Middle School; $1,000 to fund scholarships for students to experience Washington DC or DC at Home Week.
Wayne Trace Local Schools- Payne and Grover Hill Elementary; $500 to create a sensory/calm down room at both schools. 
Photos of each recipient can be found on PPEC's Facebook page.
Operation Round Up was started in 2010 as a way to give back to PPEC's communities. Groups in both Ohio and Indiana can apply.
Organizations can apply for Operation Round Up assistance by contacting Paulding Putnam Electric Co-op's Marketing and Communications Manager, Samantha Kuhn at skuhn@ppec.coop or visiting www.ppec.coop/operation-round. If you want to participate by rounding up your monthly bill, call PPEC's office at 800-686-2357. The average member's donation is about $6 per year.